http://www.mnn.com/family/pets/stories/why-dogs-dont-like-to-be-hugged#ixzz3DsquGLzk
B wanted to know what I thought.
I think I had a post about this earlier, or maybe it was a comment on someone else's post, or maybe I dreamt it... how I regret that I did not hold and cuddle and hug Stella so much more when she was a puppy. It wasn't that I didn't want to, I was just being respectful because I'd read a similar article or section of some book that said dogs don't like to be hugged. I think if I had, things would have been different and she would have learned to take comfort from our holding and hugging her...
Razz loves being held, he is his most relaxed being held. In fact most relaxed being held upside down---on his back. He totally gets comfort from hugs. This morning at off leash, which especially on a saturday can be overwhelming to a pup not yet five months old, he was handling himself beautifully, making new friends easily, keeping the balance, playing, moving on, backing off, coming in close... a pro, but I can see him stop sometimes, stand there looking around and I can see he is feeling something like wow the world is really large and so much is going on, but like WOW THE WORLD IS REALLY LARGE AND SO MUCH IS GOING ON!!!! And this is the second time I've done this, I call him in to me and crouch down and just hold him for a few seconds, its a loose hug, but a hug, he's enveloped and I can feel how this enables him to regroup, get his bearings again and then off he goes happily back into the fray...
Soshana was telling me that Rachel Saunders said to her that Americans don't handle their dogs enough, that we just aren't physical with them enough. I think it would be interesting to read some research on this and how it shakes out. Because I keep thinking that if we'd hugged Stel as a pup, a hug now those times when she's fried and freezing up or freaking out about a dog or the flies might get through to her instantly, the way it does Razz...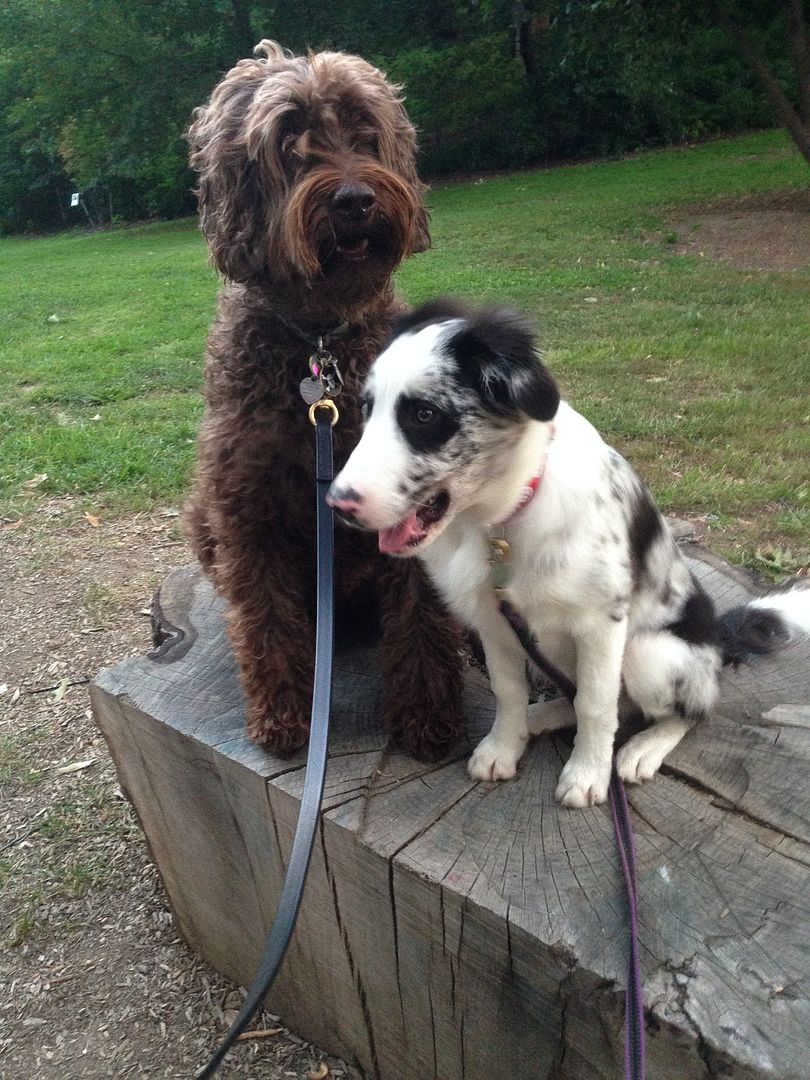 If/when you get toward the bottom of the dog hugging article link, the message beyond the more catchy media slant is actually not don't-hug-your-dog but more try to notice if your dog likes hugs or not...
Yesterday B sent me a screen capture (from the car en route to Chicago) of my sister's FB share of an article titled: Why Dogs Don't Like To Be Hugged. The article starts with this sentence: "It's great to show our four-legged best friends how much we love them, but maybe hugging should be taken off the list."