You can see how much pain she is in. Wow. Herkyjerky finals running but she gets the necessary info to that devoted dog and he does it with so much heart. I'm kinda blown away

What are some of the best and worst and I guess most normal verbal contact cues have you heard for the DW, AF, and Teeter?

How often do you hear one cue for the obstacle and a second cue for hitting the down contact?
How often do you hear the down contact cue IS the obstacle cue?

Most creative DW obstacle cue I've heard is CHEETAH!
Funniest AF contact cue is SHOW ME!
B and I are debating for Razz
Are you behind yet? I am freakin WAY behind... I'm out of breath already.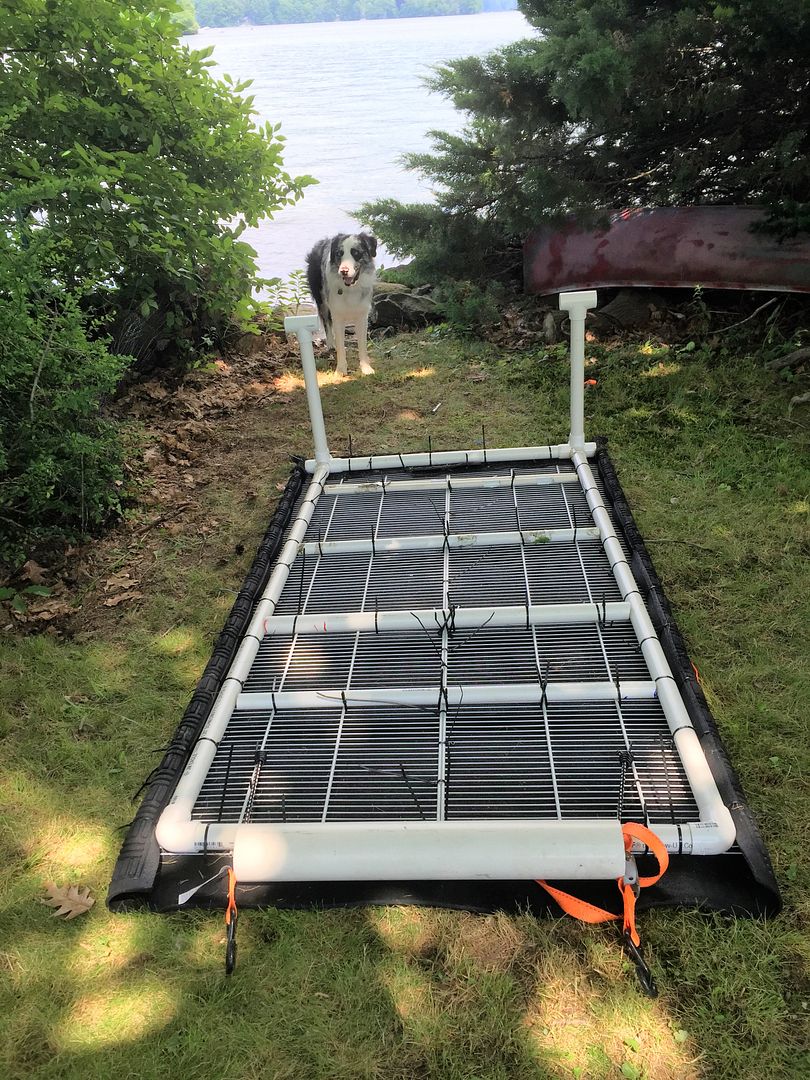 We built Jo's waterdog ramp, or a close relative of her ramp, and put it in the lake where our doc used to go. We haven't had the money and wherewithal to get a new dock and I thought it would be more fun for the dogs, even Stella, if there was a better way in and out of the water for them... that Stella might be interested in swimming if she could swim from one place to another... we have to float out with her on an inner tube and she just jumps off and swims to shore. And it quickly became clear last week that Razz loves JUMPING in... so I thank Jo for the idea and the specs and I hope it holds up for the summer... I should have found heavier duty zipties, but we can add them later.
I think we need to add a little table or step lower off the end for Joey to get back on... Stella has yet to try it. Razz IS OBSESSED!!!! HE LOVES JUMPING IN AND RETRIEVING THE WATER TOYS... there was a woman swimming lake laps with an orange floatie so the boats would see her and Razz thought it was one of his toys and swam out to the middle of the lake to get it, nosed it, realized it wasn't one of his toys and swam back... the woman was probably terrified, I would have been... ahem, we need to practice recalls in the water...
Penny do you know bunn? She has a great whippet post...
Can't decide whether to do the Recallers... What's it really worth? Do I have too much going on to do it? Can I afford it? Can I not not afford it?